Home
/
New Equipment
/
Bobcat
/
Excavators
Bobcat Excavators
Bobcat Compact Excavators Outperform Larger Equipment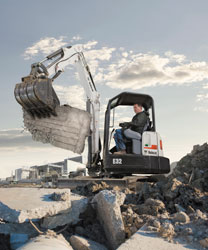 Bobcat® compact excavators (also known as mini excavators) – including the new M-Series models – are ideal for your earthmoving applications. Choose from multiple dig depths, three arm configurations and three tail swing configurations. All models feature the exclusive Bobcat all-hydrostatic drive system and industry-leading operator comfort.
Speed, Power and Response
Bobcat compact excavators are smooth and fast. The advanced hydraulics deliver consistent oil flow to all functions, which gives you consistent operation without sacrificing cycle times. Try Bobcat compact excavators against other brands as you load trucks, place boulders or perform trenching. As you'll discover, the job goes faster with Bobcat compact excavators.
Better Performance Under Load
As you evaluate compact excavators, feel the balance between the hydraulic system and engine horsepower. With a closed center valve, piston pump, load-sensing hydraulics and cushioned cylinders, each Bobcat model is engineered to provide maximum power, speed, predictability and control. The workgroup maintains brute arm and bucket forces in demanding conditions. More power means more production – and more profit.
Continuous Rotation
The house on Bobcat compact excavators can continuously rotate 360 degrees. You gain enhanced spoil placement, superior visibility and less repositioning in tight spaces. The in-track swing frame keeps swing castings and cylinders within the tracks, helping you dig in an offset position.
Offset Digging
The independent boom swing provides offset digging capabilities. Dig square holes, or access each side of a buried utility without repositioning the machine.
Better View of Your Work
Because the boom is positioned to the side, you receive an unobstructed view of your work. With a tractor loader backhoe, you must lean around the boom to see the bucket or attachment.

Do More Than Dig
Purchase or rent Bobcat attachments to maximize your investment and reduce the need for multiple machines. The exclusive X-Change™ mounting system (available on most models) makes it easy to use the proper-sized bucket or the best attachment for the job.
For the industry's most convenient attachment changes, add the optional Hydraulic X-Change (available on most models). Flip a switch to activate the hydraulic pins for attachment removal or hook-up. Install the retainer pins before you operate the attachment. The "pin-on" bucket geometry ensures the arm and bucket force are not compromised.
Simplified Maintenance
Bobcat makes it easy to perform daily engine checks and ongoing maintenance. The swing-open tailgate and side access hood provide exceptional access to the engine, pump package, valve bank and cooling system. Perform the important preventive maintenance and minimize downtime.