Home
/
New Equipment
/
Bobcat
/
Utility Vehicles
Bobcat Utility Vehicles: Primed for Productivity
Bobcat Utility Vehicle Models: Primed for Productivity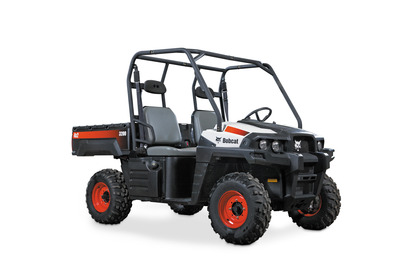 Bobcat® utility vehicles (UTVs) are designed for people like you who want to get things done: homeowners with acreage, farmers, building and grounds managers, municipality employees, resort staff, construction workers and more.
Haul supplies, carry passengers, tow trailers and even use attachments. Each model is ready for heavy loads, tough jobs and difficult terrain.
Electronic Fuel Ignition (EFI)
Start smooth and accelerate rapidly with the Bobcat Electronic Fuel Injection (EFI) system. EFI helps your utility vehicle start easier in cold weather, since no choke is required. The system adjusts to temperature and altitude changes, giving you optimum performance in varying conditions. EFI is available on the 3400 and 3400XL.
Ample Horsepower
When your utility vehicle has more horsepower, you can get more done in a day. Bobcat utility vehicles deliver speed, acceleration and power, whether you're traveling or hauling heavy loads. The 3200 offers 29 hp, while the gas-powered 3400, 3400XL provide 32 hp. The diesel-powered 3400, 3400XL and 3450 offer 24.8 hp.
Speed and Acceleration
Get there faster. Bobcat utility vehicles offer a top speed of 30 mph combined with improved acceleration. Be more efficient, reduce your travel time and maximize your time on the job.
Fuel Options
Whether gas or diesel fuels your productivity, Bobcat has a model that fits your fleet. The 3200 has a gas engine, while the 3400 and 3400XL are available with a gas or diesel engine. The 3450 is powered by a diesel engine. Match your utility vehicle fuel with the other equipment in your fleet.
Four-Wheel Independent Suspension
Improve your agility over rough terrain with the four-wheel independent suspension. Each wheel moves independently to smooth out the bumps, improve your comfort and keep wheels in contact with the ground for maximum traction.
Adjustable Rear Suspension
Check your acreage with an occupant in the morning – and haul landscape rocks in the afternoon. The adjustable rear suspension responds to your various payload and riding requirements. With a few simple adjustments, you'll find the best settings for everyday chores and occasional projects.
Customize your rear suspension with two mounting positions. Mount the strut vertically for your heavy-duty hauling needs, or choose the angled position for greater comfort.
In either mounting position, you can adjust the suspension further with a turn of the wrench (provided with your utility vehicle). Soften the suspension for lighter loads and maximum comfort, or adjust to a firmer setting for heavy payloads.
True Four-Wheel Drive
You can't control the terrain on the trail or on the job. But with Bobcat utility vehicles, you can get instant 4x4 power when you need it the most.
When you select four-wheel drive mode (3400, 3400XL and 3450), you're ready for unexpected conditions. If the rear wheels start to lose traction, the front wheels engage to power you through the difficult terrain. After you overcome the tough terrain, switch to turf mode to improve handling on pavement and minimize turf damage during turns.
Drive Mode Selection
Control the drive mode when your work leads you into changing environments. With your Bobcat utility vehicle, you can match the conditions: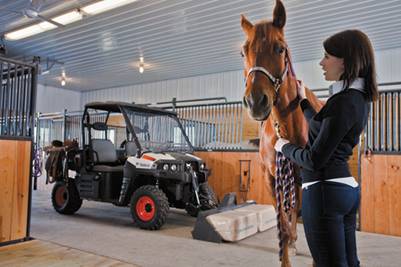 Turf Mode
Minimize ground disturbance when you work on turf, pavement and other hard-packed surfaces. Each wheel spins independently, resulting in minimal ground disturbance as you turn.
Two-Wheel Drive (locked rear differential)
Receive added traction on gravel roads, soggy trails and soft pasture. Both rear wheels receive equal torque and spin at the same rate.
Four-Wheel Drive
Navigate shallow streams, travel snow-covered paths and pull trailers with confidence. The rear differential remains locked at all times. As needed, the front wheels receive torque to power you through the slippery terrain.
RapidLink Attachment System: True Utility Vehicle Versatility.
The RapidLink™ attachment system and Bobcat® 3450 utility vehicle give you the ability to complete dozens of routine tasks and face unique challenges. With a lift height of two feet and a capacity of 500 lbs., the 3450 efficiently runs several Bobcat attachments.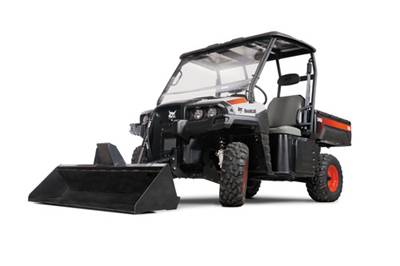 Using the RapidLink attachment system:
| | | |
| --- | --- | --- |
| 1. Line Up Attachment | 2. Lock Attachment With Lever | 3. Ready To Use! |