Home
/
New Equipment
/
Bobcat
/
Tractors
Bobcat Tractors
Versatility, Comfort and Those Familiar Colors: Bobcat Compact Tractor
Bobcat compact tractors provide legendary Bobcat productivity for your home acreage, farm or ranch, commercial property, or landscaping business. Nothing works harder than Bobcat compact tractors. They're strong enough for your toughest jobs, but small enough to work in tight areas:
Complete a variety of tasks
Work efficiently and productively
Operate in comfort
Use easy, operator-friendly controls
Enjoy more uptime and less upkeep
Purchase or rent the best implements and attachments
Add options and accessories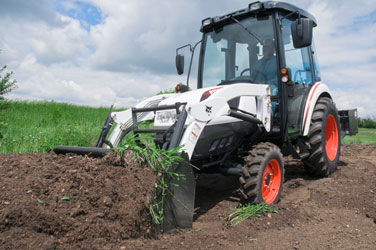 Versatility to Do More
Tackle dozens of jobs with your Bobcat compact tractor – and easily switch between tasks.
3-Point Hitch: Don't worry about changing implements. Bobcat's 3-point hitch system has telescoping lower links and telescoping sway bars. These features help to avoid getting back on the machine several times to reposition the tractor while installing an implement.
Improved Work Quality: The responsive 3-point hitch provides higher-quality results easier adjustments and fewer hassles.
PTO: The rear PTO powers a mower, rotary cutter, post hole auger and other implements. Add mid-PTO to operate a mid-mount mower.
Front End Loader: Lift and carry more gravel, dirt, feed, wood and more. Strong hydraulics and heavy-duty front axles provide exceptional lift capacity. (Always install the correct rear ballast.)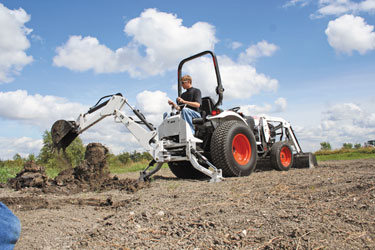 Productivity to Do It Faster
Bobcat compact tractors meet the demands of your work. Maintain traction, turn tightly, select the best speed, and operate smooth hydraulics.
Traction: Heavy-duty materials put more weight to the ground, helping you get through the tough spots with maximum traction.
Maneuver and Change Directions: Maneuver around trees, barn stalls, garages and other obstacles with smooth acceleration and tight turns.
Select and Maintain Speed: Set and maintain the most productive speed for the job. All HST compact tractors are equipped with cruise control as a standard feature while SST compact tractors with 12 forward and reverse gears provide a wide range of work speeds.
Smooth Hydraulics: Place the attachment or implement at the proper height using smooth hydraulics on the front end loader and 3-point hitch.
More Visibility: Bobcat compact tractors have better sightlines to your work area, allowing you to be more accurate and productive.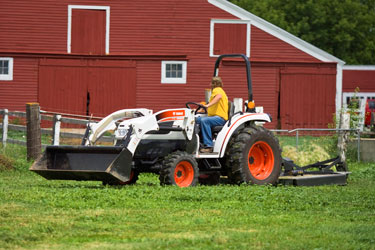 Comfort That Makes Work More Enjoyable
You'll be more comfortable on a Bobcat compact tractor. Ride with increased comfort, adjust the seat and steering wheel, operate the simple controls, be comfortable in any season, and enjoy more foot space and leg room.
Comfortable Ride: Work in rough terrain without sacrificing comfort. Bobcat compact tractors have smooth operation and a suspension seat to lessen the bumps.
Adjustable Operator Station: Operate your Bobcat compact tractor all day in customizable comfort. The seat and steering wheel adjust to your height and comfort preferences.
Comfortable Controls: Focus on your work with handles and controls that are easy to reach and operate.
Operator Protection From the Elements: The working conditions may be brutal, but you stay protected with an optional cab and other comfort features.
More Room: The pedals and floor space provide more foot space and leg room to enter, exit and operate your compact tractor.
Easy to Learn and Use
It's easy to operate and use Bobcat compact tractors. The controls, operator access and safety features help you become confident and capable.
Natural Fit: Simple, well-placed controls help you focus on productive, safe work.
Easy Entry and Exit: For easy access, enter and exit the Bobcat compact tractor from either side.
Safety Features: The ROPS, seatbelt, protective shields and operator's handbook add safety for operators.
Bystander and Traffic Notification: Alert bystanders and traffic with a horn, brake and tail lights, turn signals, and headlights.
Legendary Durability and Easy Maintenance
Bobcat compact tractors are tough, strong, easy to maintain, and ready to work when you need them. With Bobcat, you get more uptime and less upkeep.
Easy Access to Engine Components: Bobcat compact tractors have simple and convenient maintenance points. Hydraulic and engine oil level checks can be completed without removing panels or lifting the hood.
Long Durability: You receive the quality construction and durability you expect from Bobcat compact equipment.
Dealer Network: You are supported by an extensive dealer network with more than 550 dealers across the United States.
Implements and Attachments for Your Tasks
Accomplish dozens of routine jobs – and complete those special one-time projects. Purchase or rent implements from your local Bobcat dealer.
Compact Tractor Implements and Attachments: Increase the capabilities of your Bobcat compact tractor with a loader, rotary cutter, box blade, mower, backhoe and more.
Personalize Your Compact Tractor
Personalize your Bobcat compact tractor with options and accessories for the operator area, tires, lighting, engine and more.