Home
/
New Equipment
/
Bobcat
/
Toolcat
Bobcat Toolcat
Why the Toolcat Utility Work Machine?
Hundreds Of Jobs — Two Incredible Work Machines: Toolcat 5600 and 5610
When you've got plenty to do, versatility is essential. The Toolcat™ utility work machines from Bobcat Company give you all the best features of a a pickup truck, tractor, skid-steer loader and utility vehicle to save time and money. With the Toolcat 5600 and 5610, you won't have to slow down to start up another machine. You won't waste valuable space occupied by equipment that only gets used occasionally. And, you can eliminate the extra costs of maintaining multiple machines.
The Toolcat utility work machine can comfortably transport two people, haul all their tools to a jobsite, and finish the job in one trip. The four-wheel independent suspension system and automotive-inspired cab features, including foot pedals, adjustable seat, and adjustable tilt steering wheel, give the Toolcat 5600 and 5610 the fit, finish and comfort of an automobile. At the same time, these rugged machines are built to Bobcat® equipment standards so they can power through tough jobs with ease.
Bobcat's hydrostatic traction control (HTC) system provides superior traction on snow, ice, loose gravel or dirt. And the precise maneuverability of the all-wheel steer lets you do more in tight spaces.
With its lifting, hauling and towing capabilities, plus more than 40 easy-to-change attachments, the Toolcat 5600 will quickly become a versatile worker in your fleet or on your estate. Choose the Toolcat 5610 to use 3-point hitch implements – or even perform two tasks at the same time.
Lift
Lift 1,500 lb.* seven feet high with the front-mounted lift arm. The more than 40 Bobcat attachments give you a direct, comfortable view of your work, unlike a tractor where most of your attachments are rear mounted and require you to turn around to see them. Plus, the Toolcat 5600 and 5610 attachments can be changed in less than a minute – no tools required.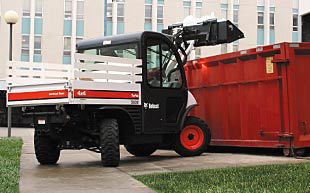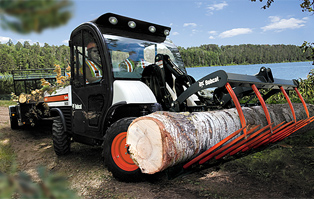 Haul
The 5600 can haul 2,000 lb. of materials, tools and supplies in the hydraulic dump cargo box and unload in just seconds without leaving the cab. That's more payload than a half-ton pickup truck. With the Toolcat 5610, hook up a hydraulic dumping trailer and haul your cargo to its destination. Both models feature a passenger seat that saves time and gas/fuel by not driving a second vehicle to two-person jobs. The Toolcat 5600 and 5610 help you do it all.
Tow
Tow 4000 lb. with the 2" standard receiver hitch. The utility work machines transport two passengers and offer towing and cargo box capacities comparable to most half-ton pickups. The hydrostatic braking system and multi-disc wet brakes give you confidence when towing. The hydrostatic traction control (HTC) system, along with four-wheel drive, gives you the power to travel through the toughest soil conditions with ease.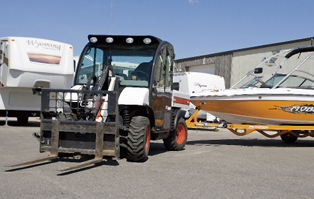 Use 40+ Attachments
Tackle hundreds of jobs with more than 40 easy-to-use, Bobcat attachments available for the 5600 and 5610. Purchase the attachments you regularly use, like a mower, so they're there when you need them. For one-time projects, rent the attachments you need, like a stump grinder, from your local Bobcat dealer. Every day, you'll find a new use for this incredibly versatile Bobcat work machine.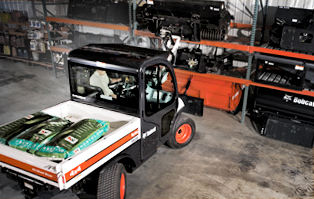 Transition Between Tasks

Transform the way you work with the front and rear capabilities of the Toolcat 5610. The Toolcat 5610 unites lifting, towing and attachment capabilities with options for 3-point hitch, rear PTO and rear remote hydraulic. Blow snow, then blade the tight corners. Sweep, then blow leaves or debris. Easily transition between jobs – or finish two tasks in one pass.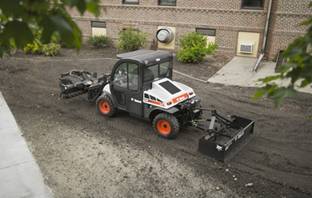 * The Toolcat 5610 must be equipped with a 3-point hitch or ballast kit to achieve maximum ROC.